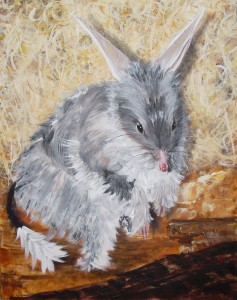 "Out late" (Bilbies come out at night).  Acrylic on canvas. 60 x 40 cm.  From the "Lost (nearly) and Found" project 2008-11
ARTIST STATEMENT
Bilbies once covered 70% of mainland Australia – once people inhabited this country then began the decline of the unique animal, to the point where they are only found in less than 20% of their former range.  Introduced predators and competitors, land degradation and clearing, unsuitable fire regimes and road kills have all contributed to their decline.  People are the main reason these animals are now endangered but it is people that have brought them back from the brink of extinction, with captive breeding management and feral animal control.
This is one of the image's that Christine produced for her "Lost (nearly) and Found" project as part of the EnviroGrant program for the Logan City Council. This is the third year that she has received  funding from EnviroGrant which enables her to go out into the community and inspire people in a creative way, whilst informing them about endangered species during her art workshops in the local libraries, Youth at risk groups, and local schools
THE ARTIST
After leaving High School in London as a gifted art student (passing art exams with the older students) Christine attended Art College before being employed as a graphic artist with a UK Wallpaper manufacturing company and then worked at a Consulting Engineers before leaving England to live in Brisbane Qld.  Working for various Architects and Consulting Engineers she then started a career as an artist in the Advertising industry and then went on to establish her own "Artistic Escape" business.
VISIT
www.logan.qld.gov.au/environment-and-waste/environmental-conservation/envirogrants